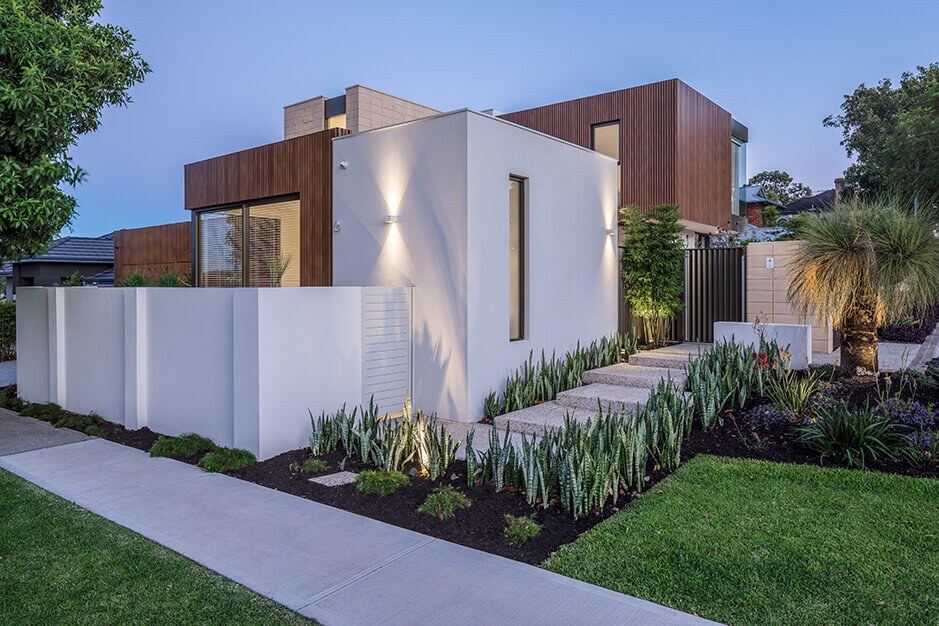 Perth is all about the weather. On average our days are moderate, our summers are hot and our winters are mild. This means the opportunity to enjoy the outdoors at one's home is abundant. Balmy summer nights, sunny winter days. It's no wonder we strive to have an outdoor area to suit our needs whether it be for entertaining or just accommodating our family needs.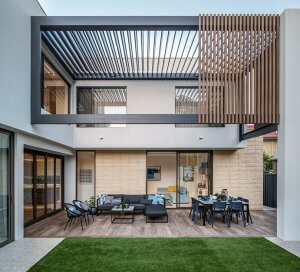 Daniel Lomma Design has embraced our diverse living style and designed The Barnard by creating a living space that draws all living areas together, inside and out. There is balanced flow from the lounge to dining into kitchen as well as kitchen to dining into the outdoor entertaining then garden.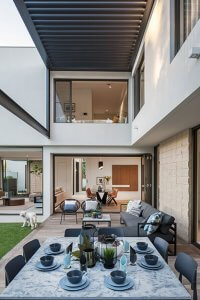 How has he done this so successfully? By utilising the Travel South Gold timber look tile on the floor, Daniel created subtle visual separations, without any physical bounds. The timber tile allows for a decking style outdoor finish that is hard wearing and ideal for its environment. The same finish has been extended into the inside of the home as an inlay under the dining area. Inlaid as such into the main floor creates that visual separation and seamless flow from outside in.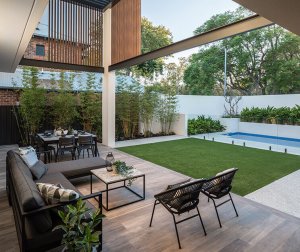 There are many uses for a timber tile and for that reason it is becoming more and more popular in our homes. The Travel Series from Ceramic Tile Supplies offers various formats and finishes to accommodate for these uses. For example in the alfresco of The Barnard, Daniel Lomma Designs selected a Strutturato (R11) finish, this more grip like finish helps when the area is wet and creates a non-slip, safe floor environment. However within the home a finish like this would be more tedious to clean so a standard (R9) finish was used, blending in seamlessly with the main floor tile finish as well.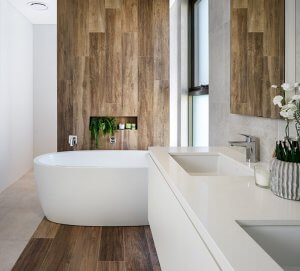 Another excellent example of location for a timber tile is the floor and wall feature Daniel has designed into the powder room and ensuite. Buy flowing the timber tile from the floor up the wall it creates a stunning contrasting, balanced backdrop to the bath or rich luxe environment for a visitor to the powder room.
Daniel Lomma Design have created a home with thorough thought and insight to how The Barnard will be lived in and how the products used can complement this. A designer will always push products to their maximum and give you a well-conceived design.
If you would like to know how this may suit your home contact Daniel Lomma Design or view the Travel timber tile series at Ceramic Tile Supplies Myaree and Wangara showrooms.
Photograpy by Silvertone Photography