Lining a pool with tiles creates a silky smooth finish and provides superior durability. But not all tiles are designed to be used for swimming pools.
The most commonly used types of tiles for swimming pools includes glass, natural stone, porcelain and low water absorption ceramic. Here's what you need to consider when choosing swimming pool tiles.
Something to keep in mind when selecting is always ensure any mosaic tiles that are to be used in a pool are not mesh mounted as you can't guarantee enough back surface coverage. Mesh backed products generally leave too much glue on the mesh, which doesn't allow enough adhesive to touch the tile and hold on.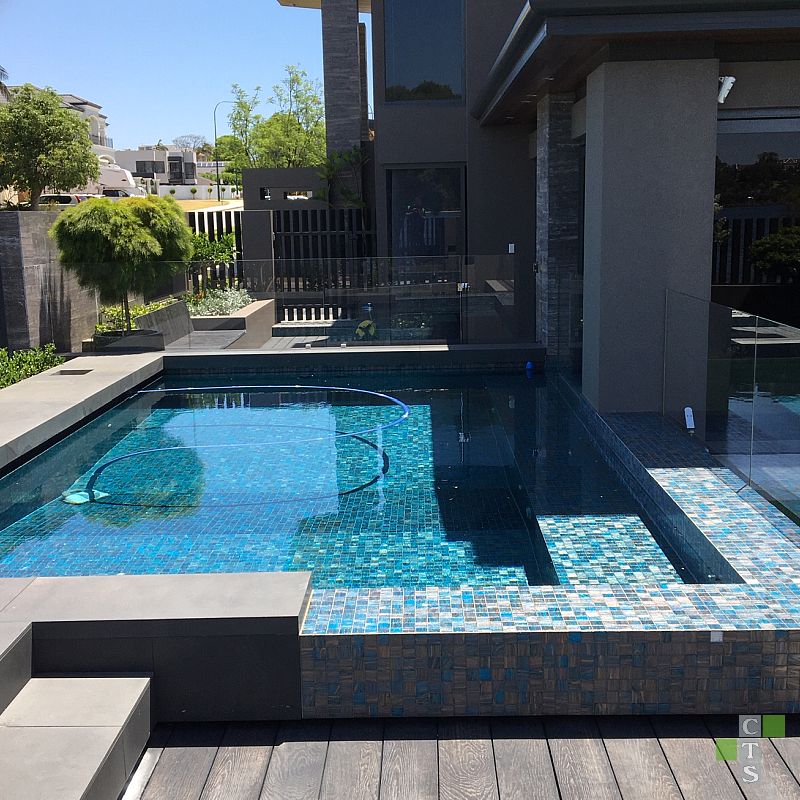 Glass mosaic pool tiles
Glass mosaic tiles bring a whole new level of sophistication to pools. They're great because the glass doesn't absorb other substances, and it can withstand chemicals or algae and fits in to the natural curves of the pool. The challenge of glass mosaics though, is choosing from the vast selection of colours available on the market.
Ceramic Tile Supplies is the Western Australian retailer for TREND Glass Mosaics, who offer a vast colour and size selection of glass mosaics, from pool ready options to custom made mixes and images.
If you like the idea of a mosaic tiled pool, then your best option is to select from the glass mosaics range mounted on the TREND PLUS backing system. This innovative technology removes the need for paper, film or mesh mounting, making it easy to install. The increased surface area of the mosaic allows the tile adhesive to bond effectively with the back of the mosaic.
If you are after a more specific colour selection or pattern, Trend Glass Mosaics are able to custom made on film. Ceramic Tile Supplies have undertaken many projects that include specific mosaic imagery or custom mix selections for client's swimming pools. These projects just require the time to wait for the custom products to be made up.
Can I use bathroom tiles for my pool?
Bathrooms and swimming pools are similar in that they can have the same kind of tiles applies to their surfaces, but they have to be the right type. If you want to use a bathroom tile for your swimming pool, it needs to be nonporous and have low water absorption ratings. For these reasons, the best option is glazed porcelain tiles.
Glazed porcelain tiles – a popular choice
Porcelain tiles are great for swimming pools as they're extremely durable and water resistant. Glazed porcelain tiles are vitreous in terms of water absorption, chemical resistance, and they stand up well to the outdoors fluctuation of weather, which is why they're a popular choice for pool owners.
Porcelain tiles are available in many different sizes including mosaics. However the most common size in porcelain or low water absorption ceramic is 200x200mm as it is still small enough to curve around organic shaped pools. However larger sizes such as 300x600mm are becoming more popular due to the more common square edged pools.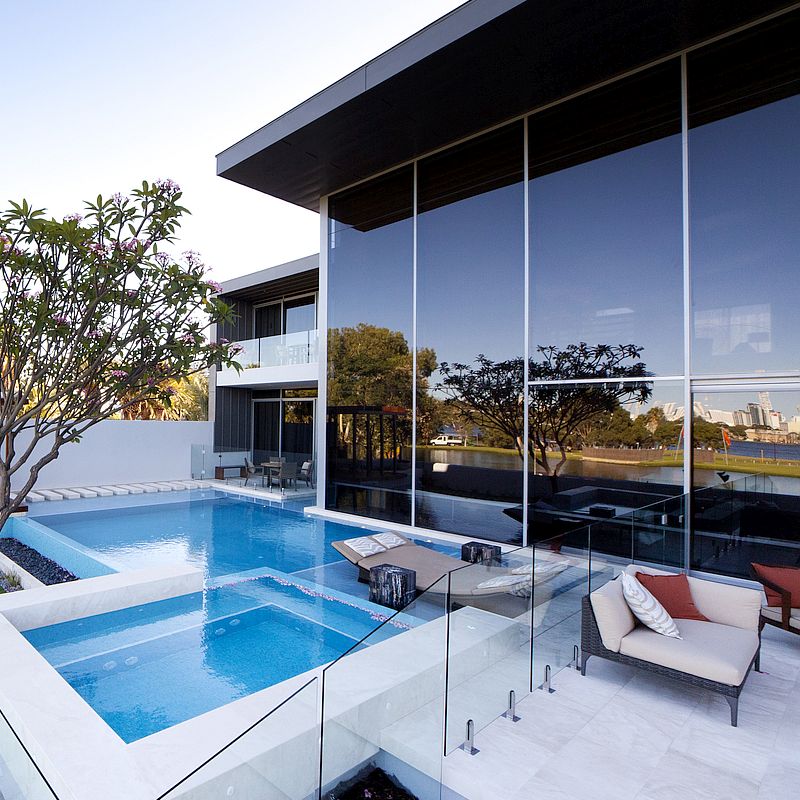 What to consider when selecting pool tiles
When deciding on which tiles to use for your swimming pool, consider the following:
High wear rating – choose a tile that copes well against exposure to chemicals and the outdoor elements.
Water resistance – any area near a swimming pool will naturally be exposed to water so it goes without saying that your tile choice needs to be water resistant.
Size – Organic shaped pools tend to look better with a smaller mosaic tile otherwise the tight corners can look like a 50 cent piece. If the pool does not have curved corners then a larger tile can be used (for example 300x600mm).
Above all, make sure you do your homework and research which swimming pool tiles will best suit your backyard. If you have any questions about swimming pool tiles, contact us and we'll be happy to assist.