They do say that styles and designs have a way of repeating themselves over the decades, but there are some that never leave.
Although subway tiles had early beginnings in New York in the 1900s, it seems to us that this clean and chic style will continue to be placed in homes for many more decades to come.
Here at Ceramic Tile Supplies we offer an extensive variety of subway tiles, so we know that it can sometimes be difficult to choose between these timeless classics. That is why we are here to help you every step of the way towards the design of your dreams.
That being said, here is your ultimate guide to help you choose the right subway tile for your latest project!
The 75 X 150mm Subway Tile
Despite originating in New York, this tile style made its way all the way to Paris for this enticing take on subway tiles.
These 75 x 150mm designs feature bevelled edges that offer more appeal and dimension wherever they are placed. We recommend these tiles as a classic option for those who like to keep things simple and elegant.
We offer a variety of bevelled options, and they come in both matt and gloss finish options.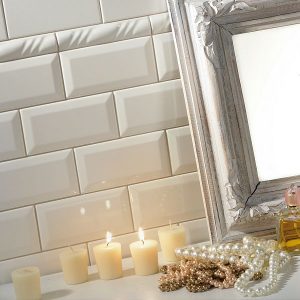 The 75 X 300mm Subway Tile
The 75 x300mm Subway tile style is not only taller than its sibling, but it is also more equipped to make a statement.
With these tiles, there is an option to swap the normal straight edge for a trendier wavy edge to add character and keep your project looking unique. We also offer these tiles in a variety of colours, all available in a glossy finish and with a select available in matt.
The Country Style
The Country style of subway tiles from Spanish manufacturers Equipe are a range of elegant glossy subway tiles with a hand made effect to finish off the wonderful design.
Available in a range of colours, and able to create many different looks and effects, including the popular subway wall tile look.
This style is great for those who want to match their tiles to a vintage or country-style. However, it is not just a design for those styles of furnishing, as it also stands out and thrives among contemporary design choices as well.
More Tips for Designing with Subway Tiles
The fun of design is not over once you choose your preferred tile.
One of the best things about tiling in general is how versatile the design layout is. With these tiles, you can create different patterns and looks that will make every project look unique, even if it is the same kind of tile!
These tiles will give you the freedom to give any room a new look. Whether you are redoing your bathroom or the splashback of your kitchen, you are bound to find a design that suits your style and the rest of the room splendidly.
For more information on the countless design possibilities for subway tiles in Perth, our range of colour and design options, or any other questions you may have about tiles in general, come on into one of our showrooms right here in Perth