Whether you've recently had tiles in Perth installed and are preparing to seal your grout, or regular wear has your grout looking less than brand new, there a few popular at-home, do it yourself solutions many homeowners swear by to get their grout grime free.
Tips From The Professionals:
At the tile shops in Perth, we all know nothing ruins the appearance of a beautiful tile like dirty grout. Before we begin looking at the different approaches to cleaning grout, keep in mind these important tips to get your tile looking brand new.
Don't rush: Let your grout cleaner sit for ten to fifteen minutes before you continue for the best results.
Use the right tools: A small, stiff brush than can fit within your grout lines is the key to getting any and all buildup off.
Rinse, don't repeat: Mop or wipe down your recently cleaned tile and grout with warm water and mild cleaning detergent to pick up any remaining loosened residue and prevent streaking.
Test a sample: Especially on coloured grout, test all of these solutions on a small corner to confirm that any chemical reactions will not produce discolouration.
OPTION ONE: STEAM CLEANING
The least strenuous, time consuming, and least chemically abrasive option, particularly suitable for those who don't want to be scrubbing tile on their hands and knees or who are concerned about chemical contact around themselves, children, or animals, is steam cleaning.
Be advised that this solution will remove any sealant on your grout so it is best used on older grout that is due to be resealed. However, as there is no chemical reaction in this cleaning process, it is ideal to use on coloured grout as there is no risk of discolouration.
If you do not wish to purchase your own steam cleaner, many hardware or home improvement stores offer rental options that may be suitable for your needs. Be sure to use the appropriate grout cleaning attachment, such as a steam hose and a small brush, for the best results.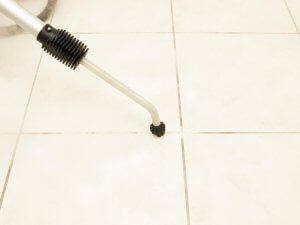 OPTION TWO: BAKING SODA AND VINEGAR SOLUTION
This option is not suitable for grout used on natural stone, as the vinegar may stain or damage natural tile, but is otherwise very convenient as the ingredients are very commonly found already within your home.
The first step is to mix a 3:1 solution of baking soda and water to produce a thick paste that can be generously applied directly on the grout lines. You should then spray a 1:1 solution of vinegar and water onto the paste which will cause the two ingredients to react by bubbling. Once the bubbling ceases, scrub away the paste then wipe or mop up any remaining residue.
OPTION THREE: BAKING SODA, DISH SOAP AND HYDROGEN PEROXIDE SOLUTION
Similar to the option above, this solution can also be made with commonly found household items. A solution of 1 tablespoon dish soap, 1/4 cup hydrogen peroxide, and 3/4 cup of baking soda creates a cleaning paste that can be applied in a similar manner to the baking soda and vinegar solution. Let the solution bubble and sit for the recommended ten to fifteen minutes then scrub, rinse, and mop.

OPTION FOUR: OXYGENATED BLEACH
Chemically, using bleach is the strongest cleaning option we can recommend, though not necessarily the most effective depending on the state of your grout. Mix two tablespoons of bleach thoroughly into two cups of water, and use as quickly as possible for the best results. Make sure to also use a synthetic bristle brush to prevent your tools from breaking down in reaction to the chemical agents in bleach. Apply the solution in sections to your grout, let sit, scrub, and rinse as usual.
Particularly tough to clean spots with deeper stains or more build-up can be treated with small amounts of pure bleach. It is recommended you wear gloves and use sufficient ventilation when using this treatment option to protect your skin, lungs, and eyes from the harsh chemicals found in bleach.
---
If you are struggling with tough to clean grout, and would like more information or a professional assessment of your cleaning needs, contact us today at our premiere tile shops in Perth to see how we can help you get your tile and grout gleaming like new.