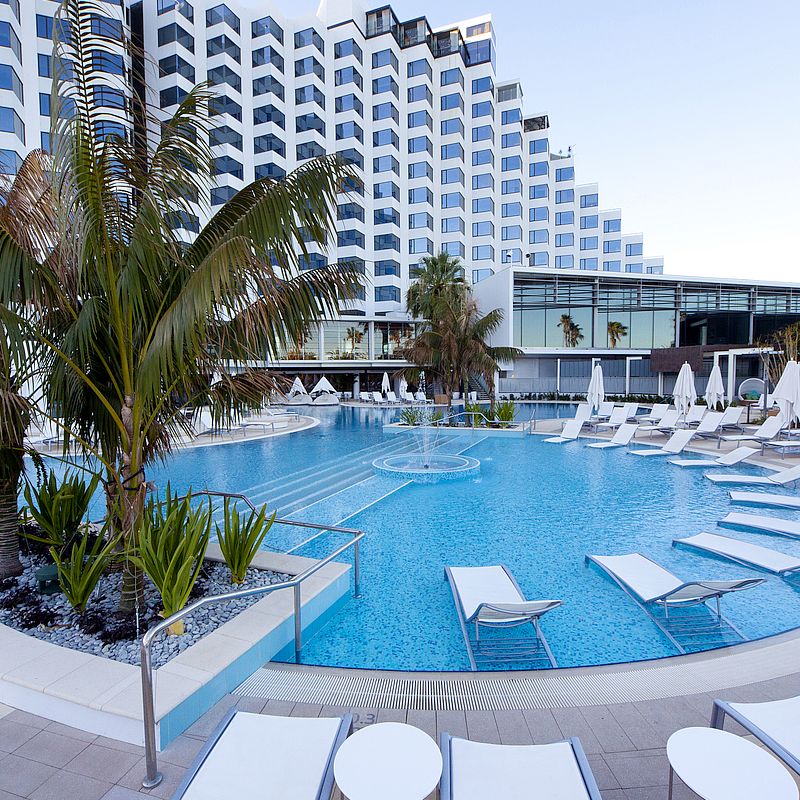 When it comes to swimming pool features, there are many different options for style and functionality. Entrances, handrails, water features, square vs oval vs infinity pools – these are all options that you will have to decide when you are building your below-ground oasis.
One of the most important decisions, however, is an underappreciated material: swimming pool tiles.
Benefits of Tiles
Tiles offer more benefits than just looking good although they do that, too. Check out what opportunities become available when you focus on the pool tile as an all-important detail.
Underwater Style
Tiles create a beautiful and shimmering look in the water. The water and the tiles work together to make an aesthetically pleasing style that you will enjoy for years to come.
Tiles come in a range of options, so you may customise the tiles based on what you want. The Brilliante 245 Plus in our selection is great for a naturally patterned look. Other options like the Daintree Mix PLUS is great for a Caribbean aesthetic while the Black Step Tread works well for a darker, sophisticated style.
Safety
Some tiles can be a great feature to enhance the safety of the pool, especially on the stairs and the deck area. Our Step Tread series, for instance, features subtle ridges that allow swimmers to find firm footing on the hosing of stairs. This tread is available in black, grey, and granite.
Longevity
Besides style, tiles are very reliable as well. Tiles designed for pools are long-lasting, especially when they receive the proper care and maintenance.
Not only do the tiles themselves last, but it helps your whole pool obtain greater longevity. As long as you keep up with cleaning and treating your tiles, they will hold up for many summer pool parties to come.
Mostly you will only have to worry about occasionally resealing your pool tile. Otherwise, there is very little upkeep needed.
The Finishing Touch
You can use tiles to finish your deck as well. You can line the edges or create intricate designs in or around the pool itself.
Our Mass Mosaics and Ocean Mix PLUS series are popular choices for finishes. Using these, you can design elaborate fish, flowers, or any finishing look you desire.
Tile Options
When you're choosing a tile, you want to research your options. Consider the placement, how much wear-and-tear they might endure, and the environment as well.
For example, our Trend Plus Surf 8051 tiles add a brilliant pop of blue. These are great for a cheery, bright scheme. Those looking for a more relaxed, monotone style might prefer the Cloud Mix PLUS.
Overall, your tile options will vary in style and colour, but you will also want to make sure that the tile you're using will be comfortable and functional.
Tile Maintenance
Over time, roots grow, minor cracks spread, and walls shift in pools. To keep up with this, you'll need to be consistent about tile maintenance and replacement.
Make sure that you lower your water level before starting. Then, remove the damaged tiles with a hammer. After that, you can replace and re-set a new tile into the missing spot. Allow it to dry for 24 hours before raising the water again.
If you keep up with this maintenance, you'll have a perfect pool for years to come.
Ready to Put Some Tile into Your Style?
For pools in need of a serious makeover, or for pools that are just being built, pool tiles are a great way to enhance the luxury of having a pool. Consider the colour and style that you want and then continue to keep up with the repairs on damaged tiles. Soon, you will be ready to invite your whole neighbourhood to your next pool party.
---
If you're in the market for stylish new pool tiles, visit one of our showrooms today for some expert advice!